Do not write my name on my clothes: and other things you do for your convenience, not mine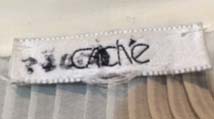 It's been a while, but I'm still fuming about the dry cleaner who wrote my name inside my clothes. With a Sharpie. Really!? This isn't summer camp and I'm not 8 years old.
While this happened months ago, I'm still dismayed.