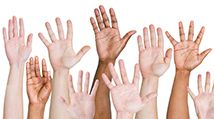 Many financial marketers are considering how to attract Gen Z customers. But they must also be thinking about how to attract them as employees. Some members of Gen Z are already in the workforce. And many more are on their way.
Are you ready?
Seven Gen Z college students participating in the Banktastic/MB Piland annual Career Test Drive College Student Shadow Day worked on strategic planning, branding and brainstorming exercises based on real-world bank scenarios. We asked them to develop a theme for an employer brand, then sketch out strategies and tactics that would bring the theme to life.
Students were from seven different universities. Two were international students. This diverse group had plenty of ideas about their ideal working environment and how employers can help them be successful.
How high can you reach?
The students brainstormed and came up with many ideas for a slogan/theme for their imaginary client's employer brand. The winner: "How high can you reach?" It was a good choice for an initiative that should be win-win for both employers and employees.
These college students are working hard and having fun at the same time.

It's one that sets a tone for mutual success. It's positive and active. And it resonated with the group.
Doing is louder than talking.
We asked these Gen Z students how the imaginary employer (one they'd want to work for) would put this theme into action in the following areas:
Training/professional development
Employee events and celebrations
Social media/intranet
Hiring and benefits
Volunteerism
Public relations activities
As with any focus group or brainstorming session, the participants were full of enthusiasm and prolific with ideas. There were too many to share succinctly, but some common ideas that rose to the top are shared below.
Something overall to note: these Gen Z students didn't envision a divide between personal and professional life. They want to develop their whole person and see the ideal employer as one who recognizes and supports that.
Gen Z wants to see a path for advancement
Gen Z college students shared numerous ideas for an ideal employer with a "How high can you reach?" internal brand.

There was no talk of quiet quitting in this group. The students wanted:
outings with top management
mentors
fast-track training and advancement
bonuses for big achievements
continuing education and tuition assistance
paid workshops and conference attendance
access to business networking events
They want a great working environment
Students envisioned:
fun activities and involvement with teammates
team incentives and rewards
team building retreats (with kite flying, hot air balloons, zip lining and mini games)
personal development: financial education, health education and gym memberships
motivational speakers and lunch trips
a comforting environment (related to emotional and mental health)
hybrid working arrangements
Gen Z notably cares about global issues. They say it's important that their employer makes a difference in the world.
Benefits
In addition to the expected benefits, Gen Z has ideas for employee benefits that include:
housing packages
gas perks
childcare
airplane miles
coffee perks
professional clothing discounts
bonuses for any great achievement (personal, like running a 5K or professional, like getting a job-related certification or accreditation)
Volunteerism
The students suggested the employer have a page on its website to match employee interests and skills with volunteer needs at non-profit organizations.
They also suggested mission-worthy trips/volunteer events that employees could do together, and a rewards system with incentives for employees to volunteer in the community.
Communicating the power and purpose
"How high can you reach?" would be widely promoted on the company's website and social media.
Content would not just come from Marketing or HR, but also be generated by employees. Ideas for posts included themes of blue skies, the color blue and heights achieved by the company and its employees depicted in:
Instagram reels with motivational audio and pleasing visuals
Instagram polls to promote and extend engagement further and longer
videos on employees crushing both personal and professional goals
employee influencers going the extra mile with the brand, creating trendy campaigns or working for a cause
fun team videos
Twitter interactive thread replies
Employers: Gen Z college students have something to say
Employers, listen up! These dynamic young people are looking for interaction, community and recognition. You must foster and communicate these opportunities within your culture.
Tap into the talent and potential they bring to the table to get the best out of this future-forward cohort.
Start now. Your future brand depends on it.
---
For more ways to be more relevant to younger generations of customers and prospects, check out our recent article: Social media pro tips from millennials and Gen Z.

If you're looking for a financial marketing agency to help make your bank, credit union or advisory firm more valuable to millennials, contact Martha Bartlett Piland, CFMP: This email address is being protected from spambots. You need JavaScript enabled to view it. or call direct at 785.969.6203.